I recently ordered and received a customized standard-sized Traveler's Notebook from Baum-Kuchen. I have been wanting to order one for a while so as soon as they had re-opened the service, I contacted their lovely team to work out the details of my request. I have always wanted a camel Traveler's Notebook and have always wanted a customized Traveler's Notebook, so great opportunity to fulfill both wants.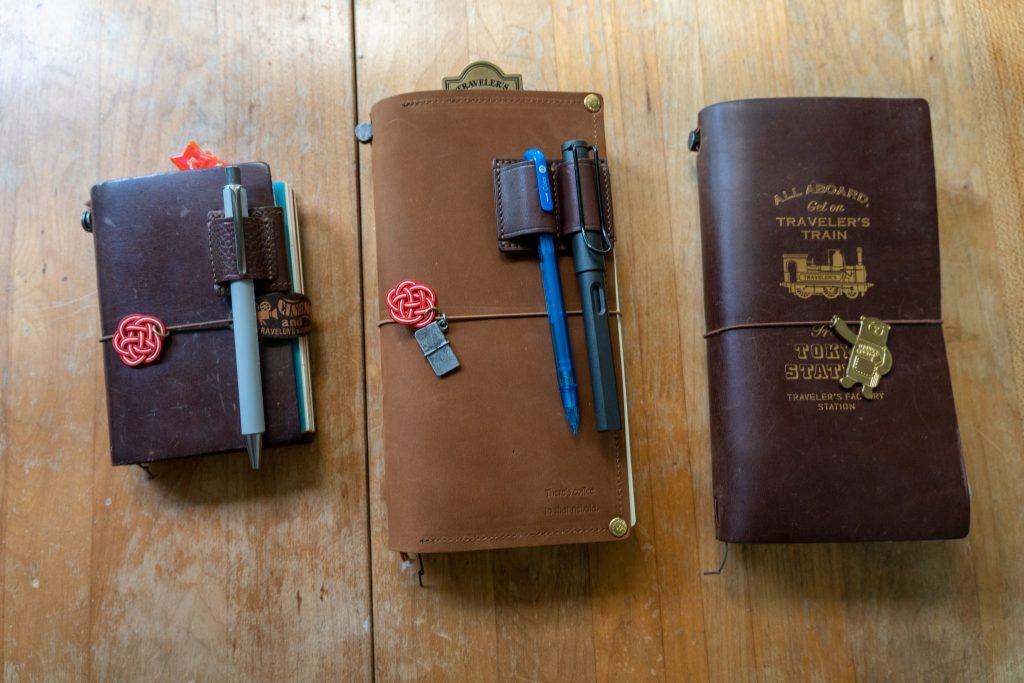 My Tokyo Station Traveler's Notebooks is what I have been using as my main journal for the past couple of years. I kind of baby it because it is one of my favorite souvenirs from our first trip to Japan. As such, whenever I take it anywhere, it is usually in a canvas carrier to prevent it from getting scratched up; Which is fine, but that makes it kind of a chunky thing to carry anywhere and prevents it from developing a nice patina like my passport Traveler's Notebook. I kind of just throw my passport TN in my bag since it functions as a planner and extended wallet. Because of that, the leather has become nice and supple and broken in with a lot of character.
So the Tokyo Station TN now houses all of my travel journals from Japan along with pamphlets and other ephemera and my new customized TN is now my daily writing journal. I took my scrapbooking insert out, leaving just my journal and the sticker paper insert. Doing so slims it down quite a bit and makes it so that it actually fits in some of my bag/backpack pockets. When I feel like carrying around my scrapbook insert or sketchbook insert I can easily add either one back in as I have my TN setup to make it easy to do so.
So as far as customizations, this is what I went with. Originally I had wanted the pockets in nude but one of them was out of stock in that color so I had chosen brown instead. Thinking back, I am so glad that I went with brown as it matches the color of my pen clip and just suits my taste better.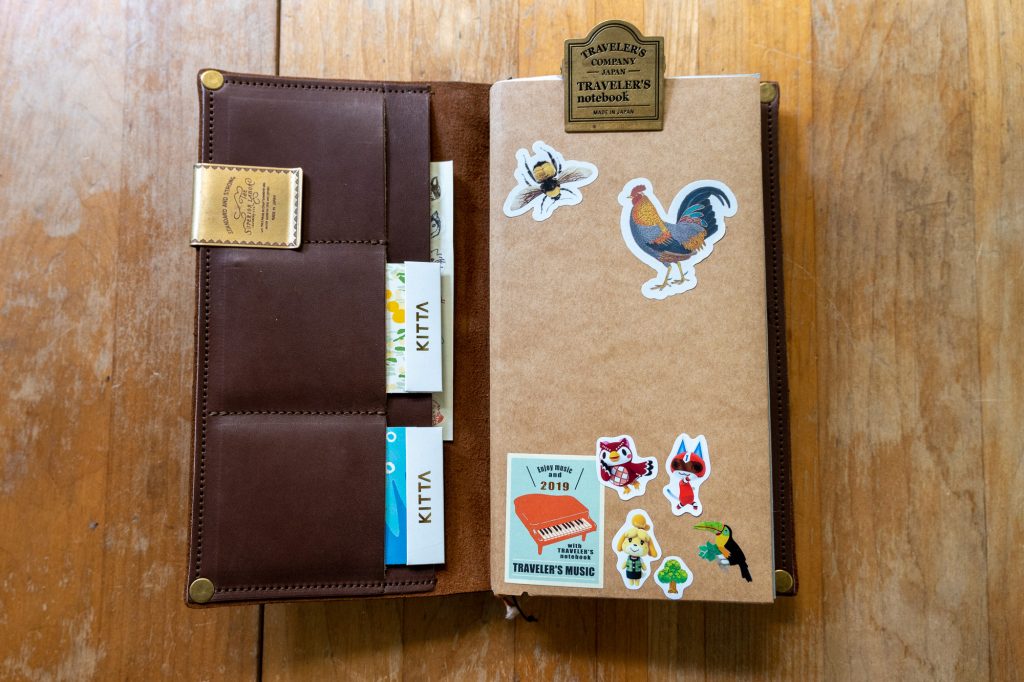 I chose the cardholder wallet pocket on the left inside cover to store washi samples and other random card shaped slips of paper. I added my Superior Labor double pen clip holder because it's convenient being able to hold two pens (fountain pen, and either pencil or inking pen) and also because the brown leather on the pen loops matches the brown leather on the pockets perfectly. The brass clip makes the top card pocket on the left inside cover a bit too tight for washi samples but I have found that it is the perfect size for printouts from my Polaroid Zink sticker printer.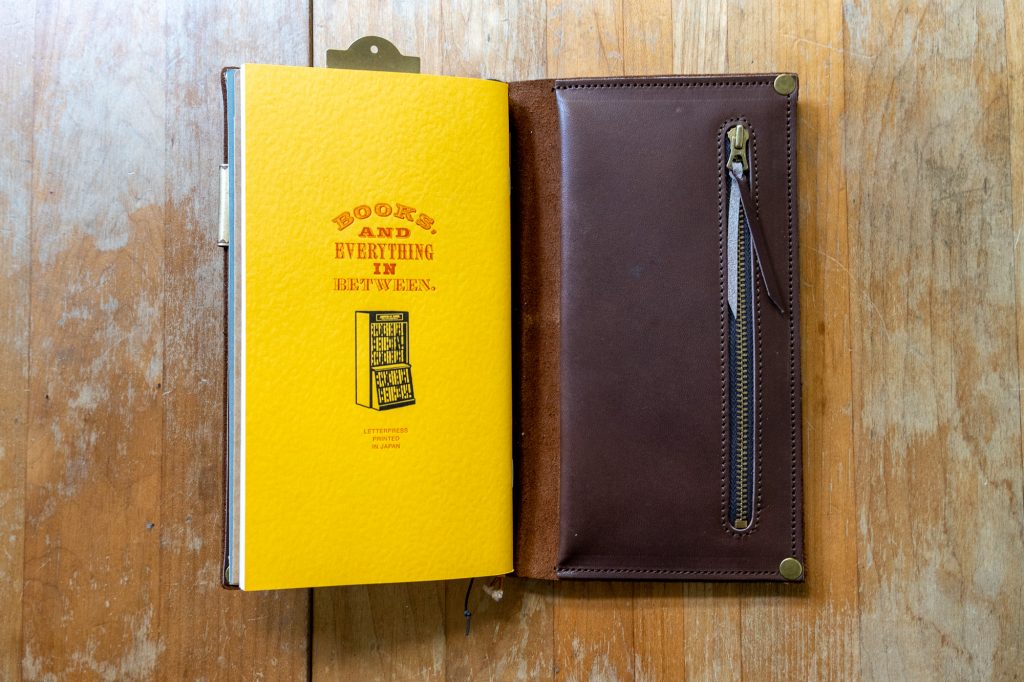 On the right inside cover I chose the zipper pocket, which currently holds: A small plastic ruler, a fake movie prop $100 bill, weird pictures, bird stickers, scraps of paper. It's basically a catchall for random ephemera. There is ample space under each sewn on pocket to store more items. This setup more or less matches the setup that I used with the blue canvas insert in my Tokyo Station TN. It's a lot easier to manage with the pockets sewn in vs being another insert.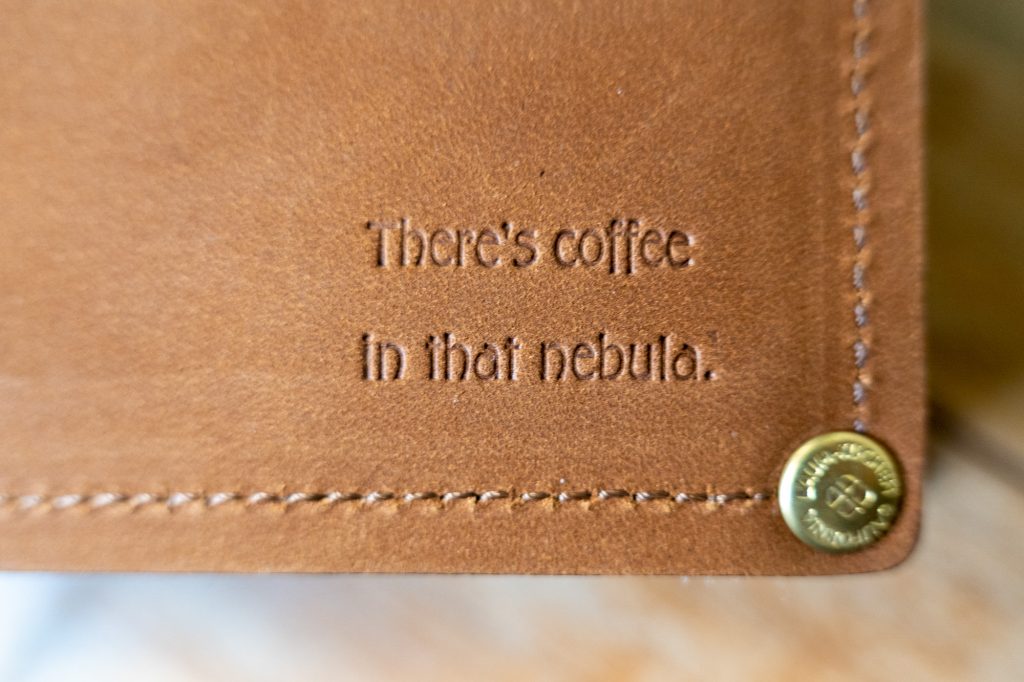 On the cover I have a quote from one of my favorite shows embossed: "There's coffee in that nebula." I feel that it encompasses a decent range of things that I enjoy: Coffee, Star Trek, and exploration/adventure. But seriously, I am a huge Star Trek nerd.